Best CRM Software in Chennai
Happy customers are a doorway to a prosperous business.
Hence, it is most important for businesses to cater to all the customer demands, promptly and attentively. And to help businesses achieve this aim, CRM Software comes into the picture and in this competitive world, you need the Best CRM Software in Chennai. CRM stands for Customer Relationship Management. By integrating automation, CRM makes it easier to find new customers, win their trust, and provide support and additional services.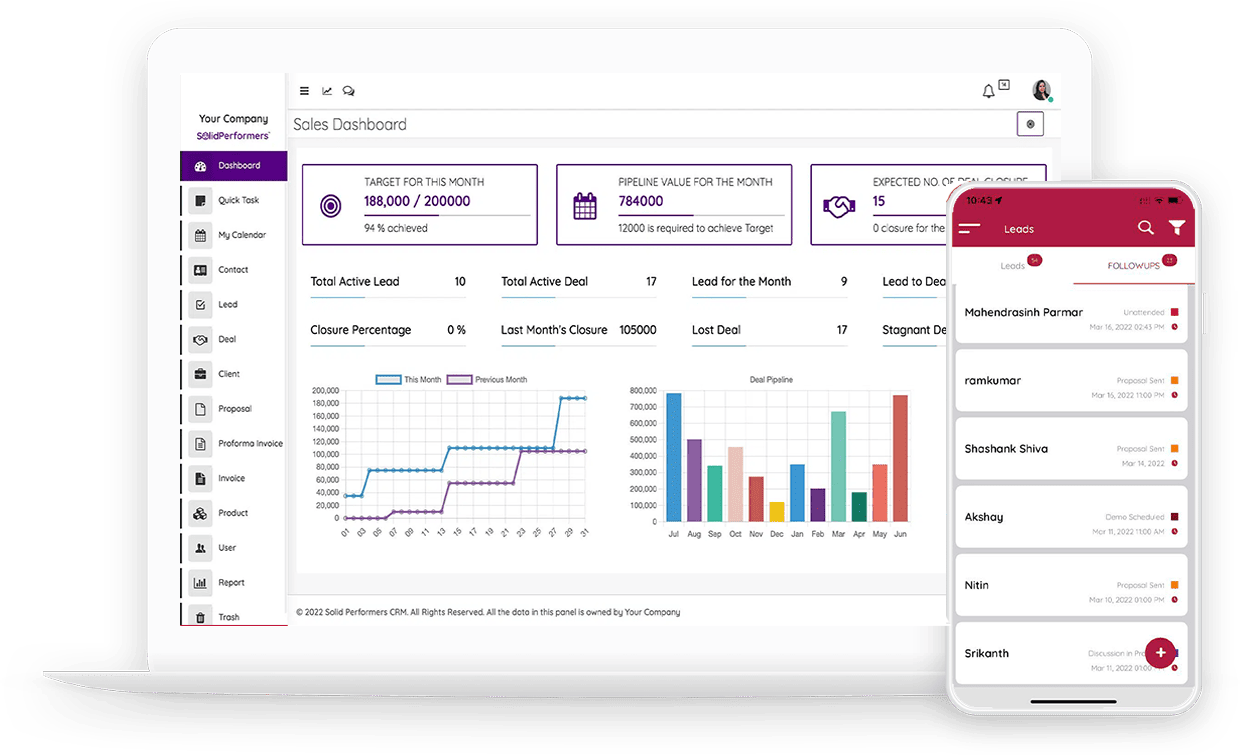 Advanced Follow-Up System
You can perform follow-ups on an automated basis and the system will also remind you before the follow-up, so that you will never miss a follow-up again in closing a deal effectively.
Access across all devices
You can be able to use the CRM from your Mobile, Laptop, or Desktop. All data will be synched parallelly across devices and you can be able to access the system from anywhere in a secured way.
Pre and Post Sales
We have 10+ Modules to manage both your pre-sales and post-sales activities in an efficient way without any requirement to use any other third-party software for business management.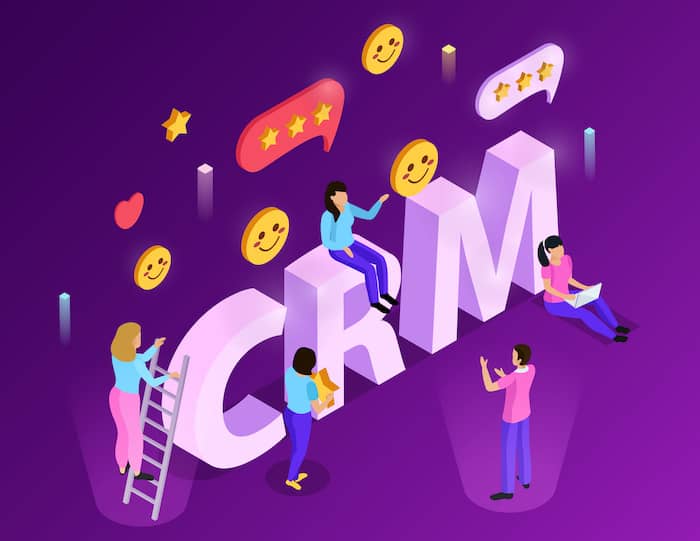 Why Solid Performers is the Best CRM Software in Chennai?
What if an organization jumps in and helps you to make your business more powerful by reaching more audiences? EXCITED!!
Yes! Solid performers which is the Best CRM Software in Chennai help you in this CRM software to capture the customer information and also bring the automated CRM integration solutions into the picture. 
CRM is a tool aimed at helping companies in sales, marketing, and service management. CRM is suitable for businesses of any size and it provides easy access to data, which makes it much easier for the users to collaborate on different processes and increase productivity. It is most important for businesses to select appropriate CRM Software for their company and Solid Performers present in Chennai provide such CRM tool. With that said, Solid Performers CRM is the best CRM software present in Chennai.
What happened before the twentieth century?
Usually, there is a misconception that CRM originated towards the end of the 20th century, but this practice of CRM is found to be as old as trade.
Imagine you are running a business and there are no proper customer leads that pushed your business. We understand that it is the most difficult situation to handle!!
Everything is just one step ahead…. Solid performers help you in the process of organizing the business in a better way and accessing the customer data over CRM software. So, no wonder how to pull in leads…
We go the extra mile to analyze the situation and help you to facilitate lifelong leads for your business. You can reach your audience even with the personalized messages that you like. Get into this more comprehensive CRM system that addresses each and every node in capturing the leads to grow your business.
These are the primary things that you should look out for in the CRM and we as one of the Best CRM Software in Chennai provide you with the same.
Solid Performers CRM is a one-stop solution for an organization's CRM solution, which, apart from providing the best CRM tool, also provides –
Implementation & Testing Support
Customization help
Unlimited free chatbot functionality.
Collect Leads –
It collects leads via various sources like websites, Google Ads, social media, etc.
The software then automatically allocates the leads to the sales team based on pre-defined settings on a round-robin basis and notifies them as well.
The system also sends a welcome mail or SMS or WhatsApp message to the prospect with dynamic content and at specific time intervals.
Convert to deal –
The potential leads can be converted to a deal with just one click and can also involve multiple team members to close a deal.
The deals can also be managed smartly by setting up parameters like expected closure date, estimated closure value, probability of closure, and many more custom statuses.
Build Pipeline –
Organizations can easily manage and create custom pipelines for the next 12 months with parameters like estimated sales/income projections for every month to make an efficient business decision.
Close Deals –
Once a deal is closed and the lead is converted to a client, the onboarding mail sequence can be sent to clients automatically.
With an advanced AMC management function, the system will send an automated reminder to the clients.
Want to know more about the best CRM Software in Chennai?
Top 6 Benefits of Best CRM Software in Chennai
Solid Performers CRM helps to-
Easily collect the leads– automatically via different sources and send them to CRM directly.
Allocate to the sales team– automatically based on pre-defined conditions.
Send a Welcome Email.
Sends notifications – to the sales team so that they can get in touch with leads ASAP.
Provide a reminder alert– to the executive when they need to get in touch with the prospect again.
Send a sequence of emails–within a particular time interval to convert and nurture the prospect into a client.
Don't take our words for it, you can check out the review below from our clients.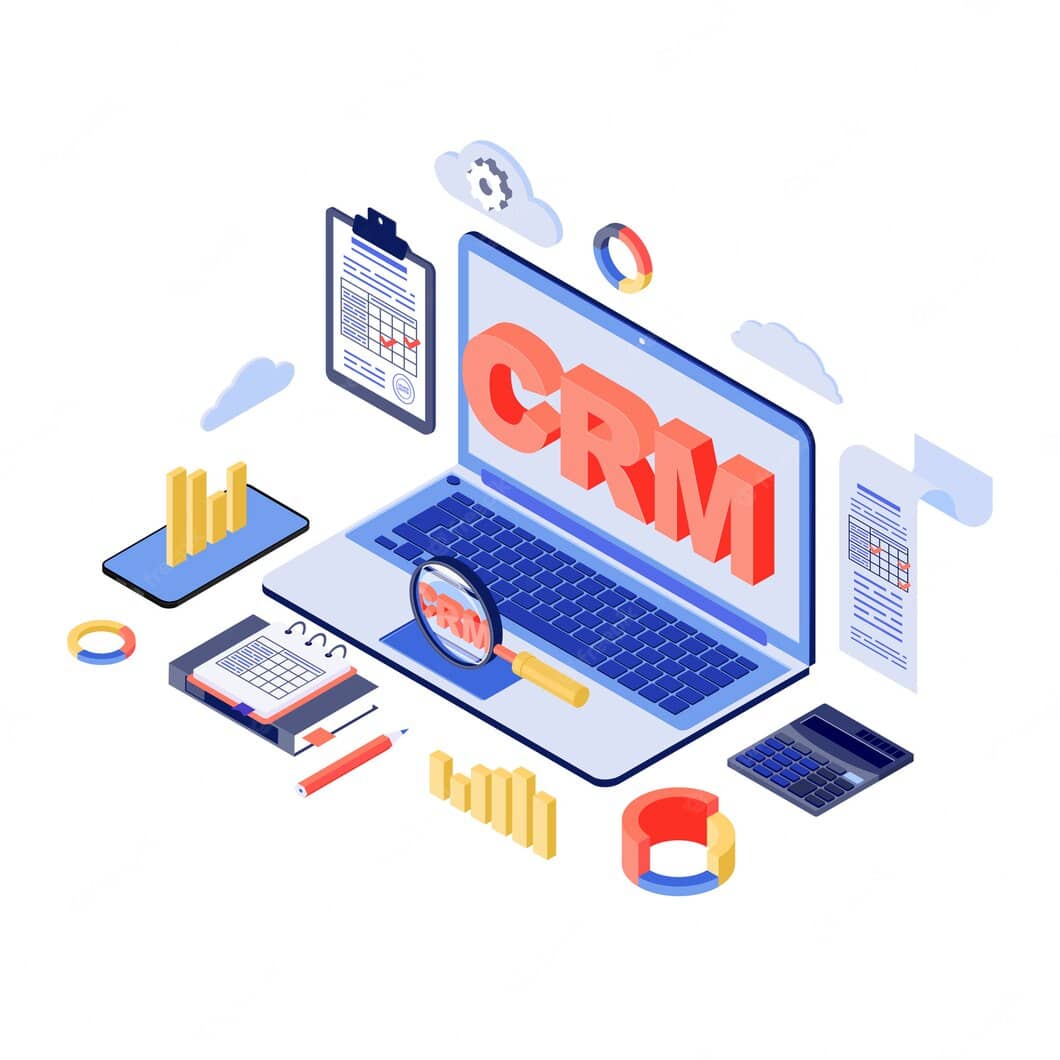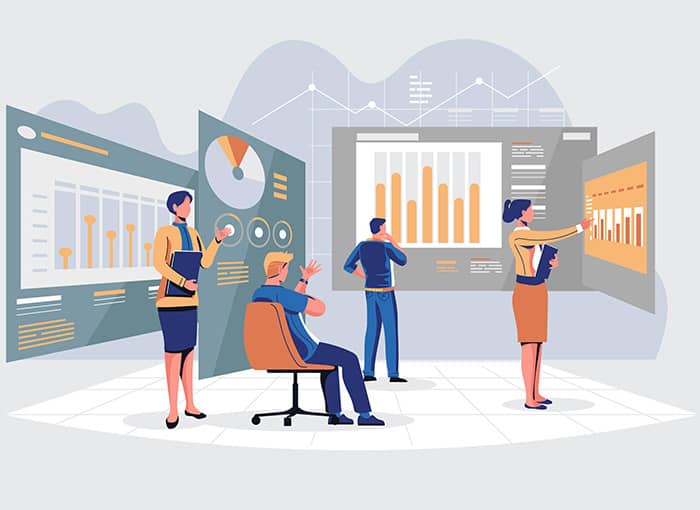 Get Started for Free
There is nothing to lose but a higher probability is there for you to gain so much as Solid Performers CRM is one of the Best CRM Software in Chennai. Try out the CRM for Free and don't pay anything until you satisfy. We assure you that this is one of the best decisions for your business growth and success.
Everything that one organization needs, to manage leads, follow-ups, pipeline, sales team, opportunities & clients, is present here. Organizations can execute and automate most of their sales-related activities with the help of Solid Performers CRM easily.
Choose the Best CRM Software in Chennai.
Better engage with your customers – Think perfection!!