Best CRM Software in India – Top 10 Sales Boosting Benefits
Want to Implement the Best CRM Software in India in your Business for Sales Success & Growth? Here is the Perfect Solution with the top 10 Sales Boosting Benefits. Go through our complete site to understand our solutions, features, and various use cases which will really help you to boost your business growth.
The best CRM software in India is the one that can provide all kinds of customization and also takes care of your employees and the data present in your account. If your CRM helps you to earn double profit in less than 3 months, then that CRM is the best CRM for your business.
Solid Performers CRM is made in India and provides all kind of features that helps the business to grow to the next level. You will have all the options available from pre-sales to post-sales. It also has all the integrations available on its platform.
Quick Enquiry
Kindly fill out the form below and we will get back to you.
Manage your Data
Get all your data from different sources to one panel, no need of using the different panels for collecting and managing the data instead you can just integrate all your sources with our CRM and get all the data directly captured in our CRM software. You can also bring all your old data from your previous panel using the excel sheet with the best CRM software in India. In just a few steps, you can import all your data in one shot.
Email Campaign
You can create your design templates for your default templates. There are many designs available and whichever suits your business, you can design on your own. You can also import the data from CRM itself for running your email campaign and you can also import the data from an excel sheet as well. There is no restriction in adding the data. After sending email campaigns to your leads, deals, or clients,  you can get the status of each mail sent to them easily in the form of report.
Lead API Availability
Apart from the integration available in our platform, you can simply create the lead API from our panel and paste it into your third-party panel to get the leads captured in the CRM system. You can use this for any kind of third-party source or website where they don't provide the standard integration. This is made possible in the best CRM software in India which is Solid Performers CRM. Integration is made simple and using with us,
Why Solid Performers CRM is the

Best CRM Software in India

?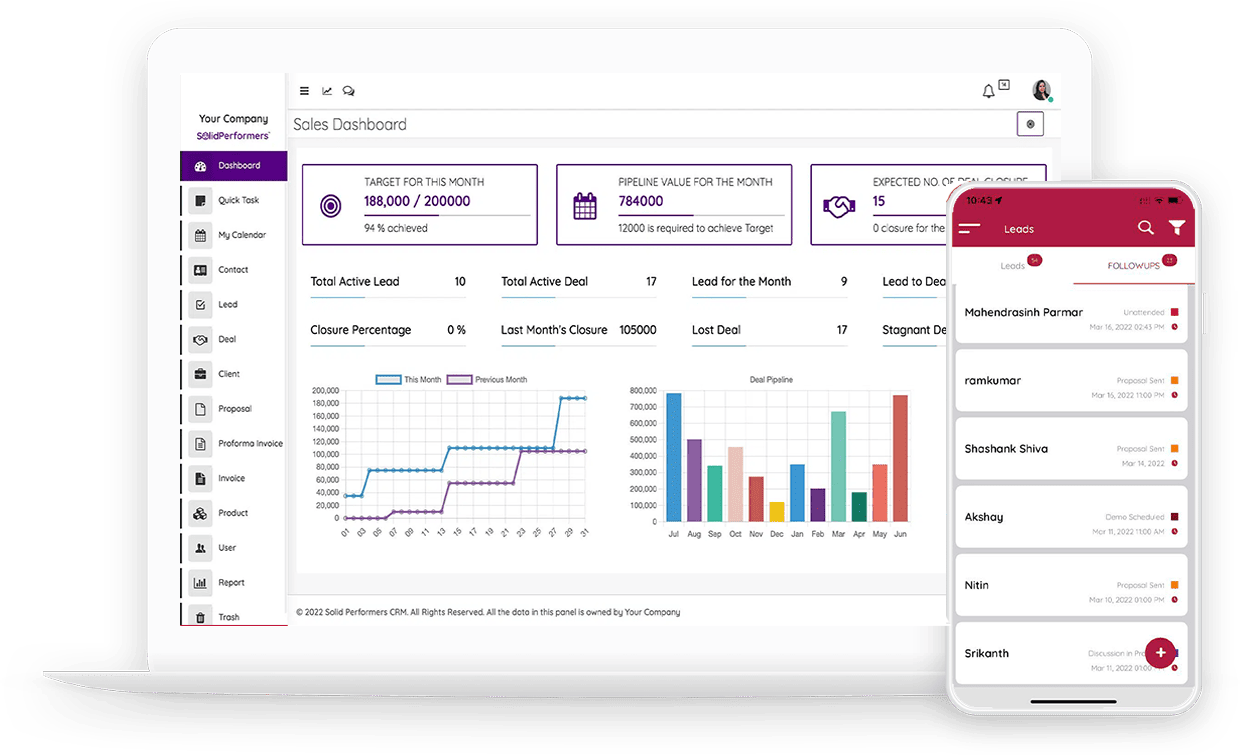 Manage client's issue using Support Ticket
After closing the deal, it is very important to serve your clients effectively. Once they are onboarded, you must satisfy them fully, so they can be your loyal customers for life.
Managing your client's support ticket becomes easy in Solid Performers CRM. We have provided you with multiple options to create tickets in the CRM. You can also add a support form to your website or share the support link with them so that whenever they face any issues they can directly fill the form to raise the ticket.
As soon as they fill out your form, the ticket will be created automatically in the system and a unique id also will be created on the best CRM software in India. It can be also auto-allocated to your particular executive who is responsible for that.
A support ticket will also give an idea of how many times you have served your clients and check the status and completion progress of each ticket.
Manage your Employees
We also have features where you can manage and track your employee's performance. There is an option to punch in and punch out for employees, where they can record their attendance whenever they are starting their day.
They can also ask for the leave in advance and can check the update if the manager or HR has approved it or not.
Want to know more about the Best CRM Software in India?
Manage Multiple Contacts
Many a time you can have the contacts of more than 1 person from the same company. Adding 2 contacts or mail IDs will increase your unnecessary fields on the page.  So Solid Performers CRM provides you the option to add all the extra contacts in another module where you can link with your client module and will get to know from 1 client how many contacts you have in your list.
Want to know more about the Best CRM Software in India?
Sales Automation using the Best CRM Software in India
Find the very important and unique features in Solid Performers CRM, which will assist you to nurture your leads on an automated basis and will also save much of your time.
Send automated welcome emails to your leads coming from integrated sources, so that before calling them you will provide them with the idea about your company. Once the lead is created your executive can also receive the mail, SMS, or WhatsApp saying that they have been allocated with 1 new lead. Make all this simple and easy in the best CRM software in India.
This automation will not only save your time but will also help you in closing the leads faster than the normal time.
This automation can be possible for all the functions of CRM based on the condition you want to define. Like, you can also send a mail, SMS, or WhatsApp when you are closing any deals or when you are completing any ticket for your clients.
You can also send a weekly report via mail to your manager through CRM and also get the automation mail, SMS, and Whatsapp for your follow-up so that you will not miss any follow-up and can do your follow-up on time.
These features are provided by the Solid Performers CRM which is one of the best CRM software in India.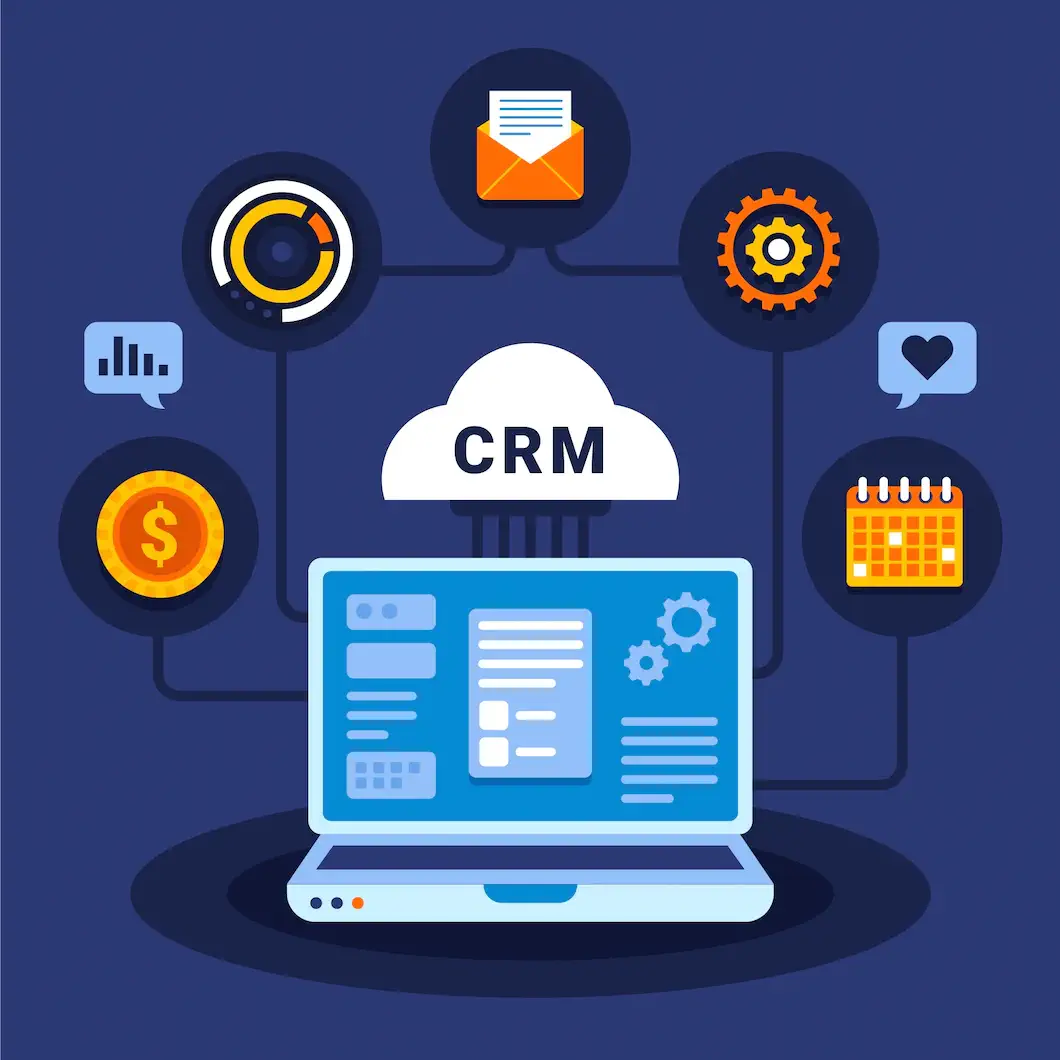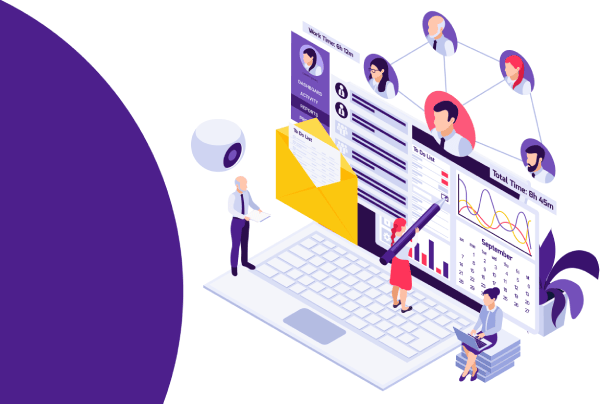 Get Started for Free
There is nothing to lose but a higher probability is there for you to gain so much from Solid Performers CRM as it is one of the Best CRM Software in India. Try out the CRM for Free and don't pay anything until you are satisfied completely. We assure you that this is one of the best decisions for your business growth and success.