#1 CRM SOFTWARE FOR INTERIOR DESIGNERS
Simply 
Increase your Business Performance by 2X 

using the Best CRM for Interior Designers

Whether you are an Architect, Interior Designer, Design Coordinator or Contract Manager, this CRM for Interior design Companies will give you a Modern and advanced approach to cater to your inquiry, manage your customers & their projects, and generate fast-tracked business growth.





Automate Lead/ Enquiry Allocation & Follow-up Alerts

and never ever worry about missed lead follow-ups or manually assigning the leads using the Best CRM for Interior Designers.
Get Started for Free
No need to think too much. Get started for free with the Best Cloud CRM for Interior Designers and continue using it only if it fulfills your business requirement. As simple as that.
Want to Deliver More Projects Faster & Smarter?
With Advanced Lead/ Enquiry Management and the complete communication history of the lead along with automated lead nurturing, it is very easy to close the deal using the best CRM for Interior Designers. No need to spend time on invalid prospects anymore.
And the best part is that you can have
No need to worry about your growing inquiry or user list. You should be happy about it.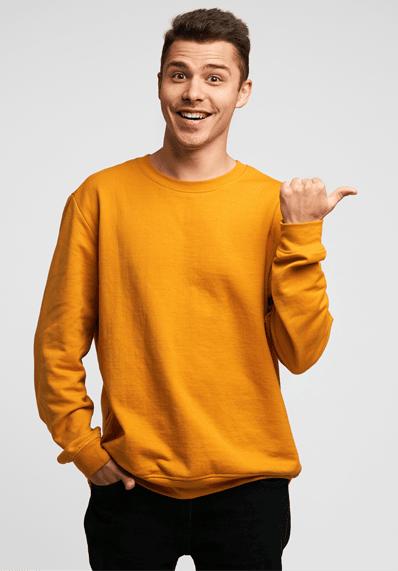 Why do you need a CRM for an Interior Designing Company?
Managing the Inquiry till the closure of a customer and managing the Payments, Project work of the customer & its progress update, due date, and completion in a smooth way is not an easy task.
Since multiple team members will be associated in each and every stage, there are multiple possibilities for miscommunication and delay in successful project completion. Hence, CRM for Interior Designers is essential for the successful functioning of the company.
Why Solid Performers CRM?
Solid performers CRM software is designed by taking care of all the requirements that are required to manage a successful interior designing company. Each and every module is crafted as per the requirement of the interior designers as this is one of the best CRM for Interior Designers and Interior Designing Company.
Our CRM helps to manage all inquiries, automated follow-ups, customers, projects, team management, and all the deliverables in an efficient way along with proper communication history. Click here to follow us on Linkedin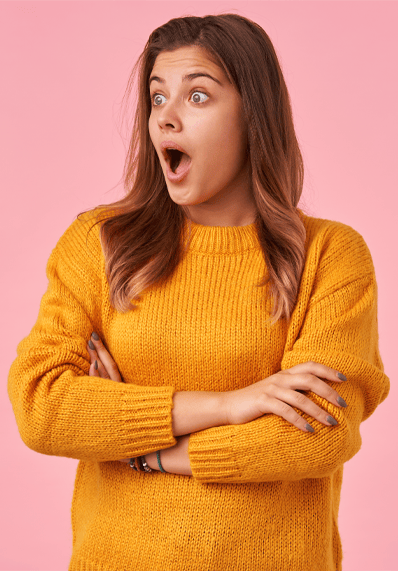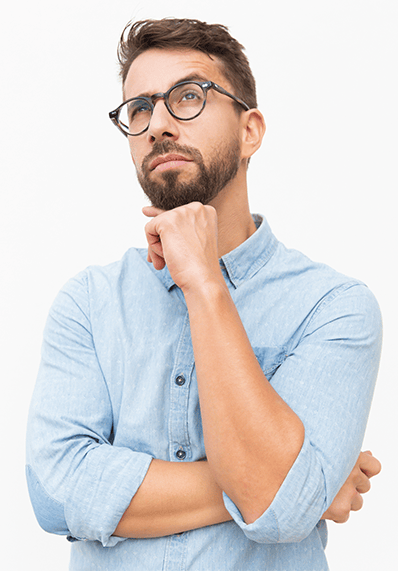 Maximize Customer Satisfaction
Satisfying customers with your deliverables is very easy now. All you have to do is update the project update in the CRM for Interior Designers panel and an automated update will be sent to the customer with the progress of the work completed.
This will ensure that there is a healthy relationship happening with your customers & any deviations can be fixed in a fraction of time.
Team Members Access with Advanced Restrictions
You can create multiple user roles based on your business need and can allocate those roles to the users who are created under your business. They will be having complete access restrictions and can access only the access provided to them and nothing else.
With this, you will have complete safety and security of your data and there won't be any miscommunication in handling the leads. You can also block or unblock a user at any point in time using the best CRM for Interior Designers.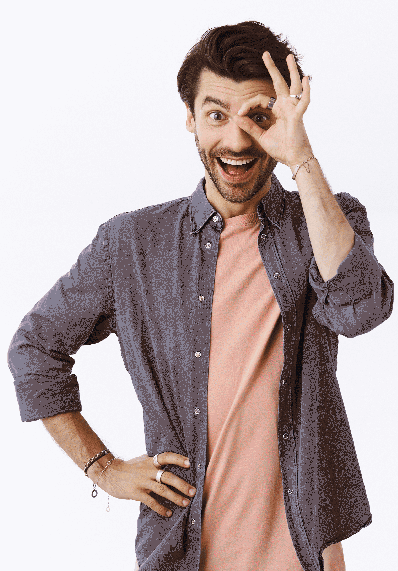 Top Reasons to Choose Solid Performers CRM
Give it a Try
Get Started with us for Free and subscribe with us only if our solution suits your entire requirements.
Best CRM Software for Interior Designers-
A Quick Overview
Here are the beautiful things that you can do with the help of the Best CRM for Interior Designers along with some reference screenshots.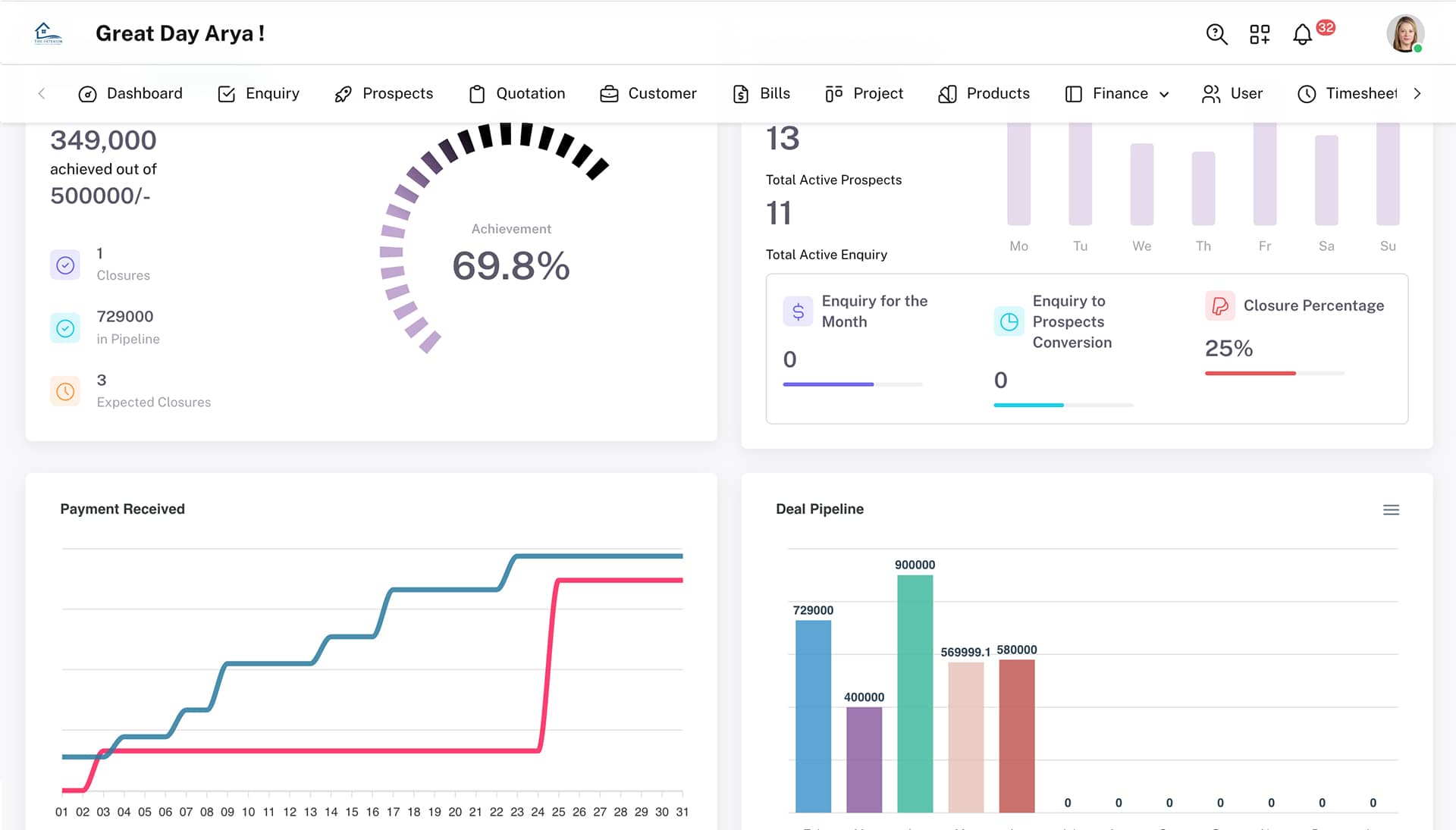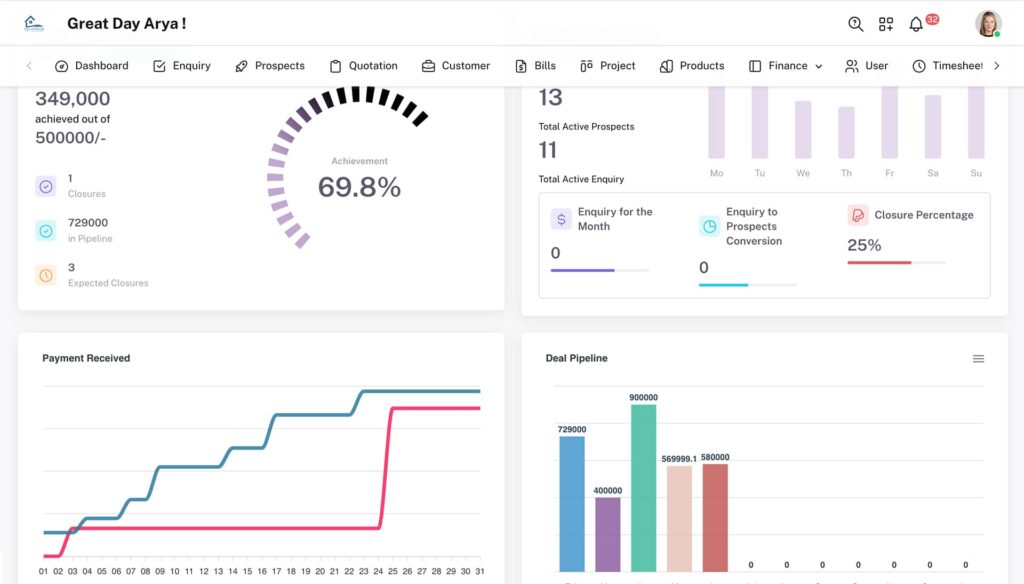 Advanced Dashboard
Get an overview of your business, and track the payments or business generated in a month, quarter, or year. Build a sales pipeline for the next year for easy sales growth estimation.
Easily compare your last month's and current month's performance. You can also create custom dashboards as per your need.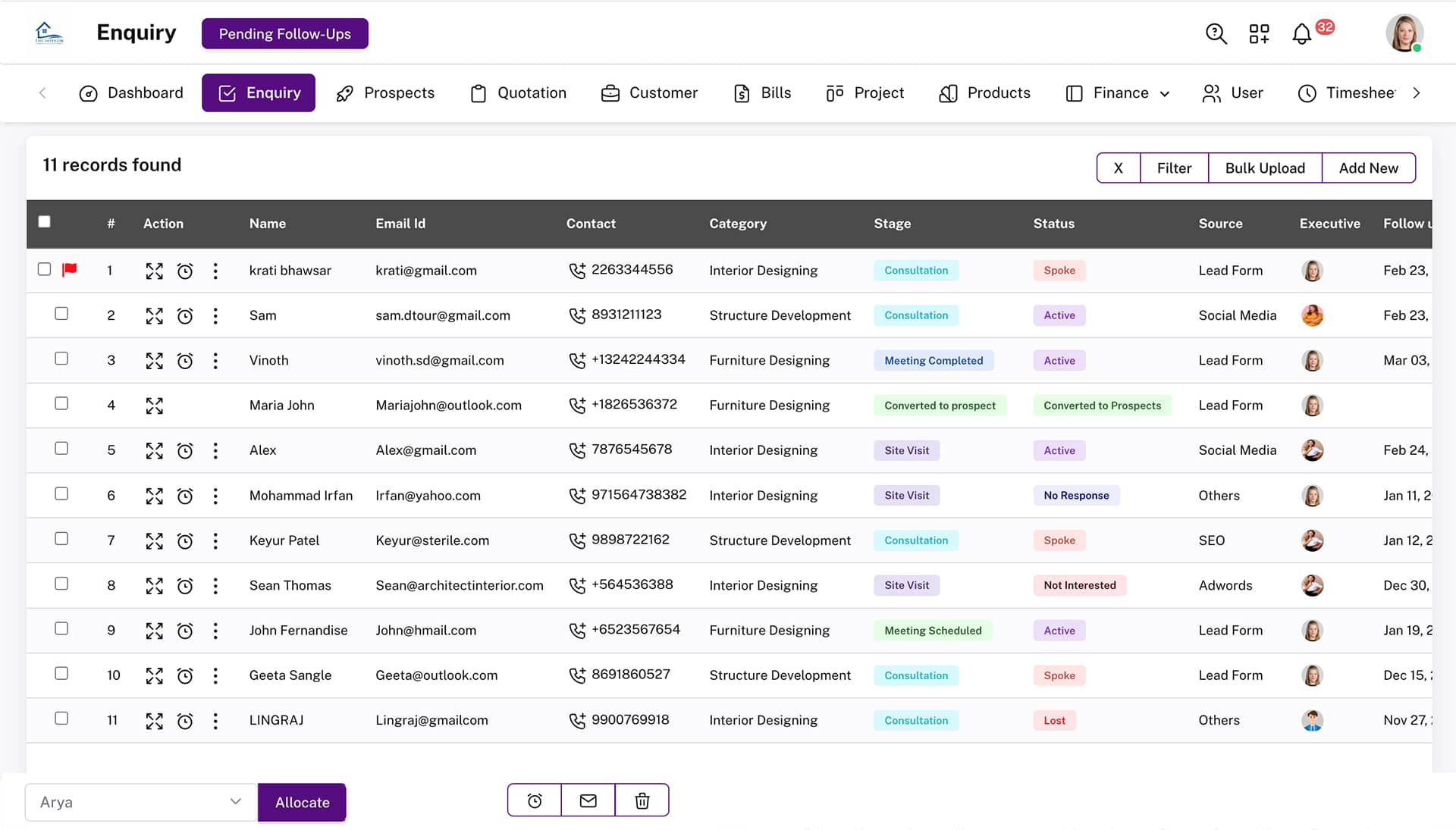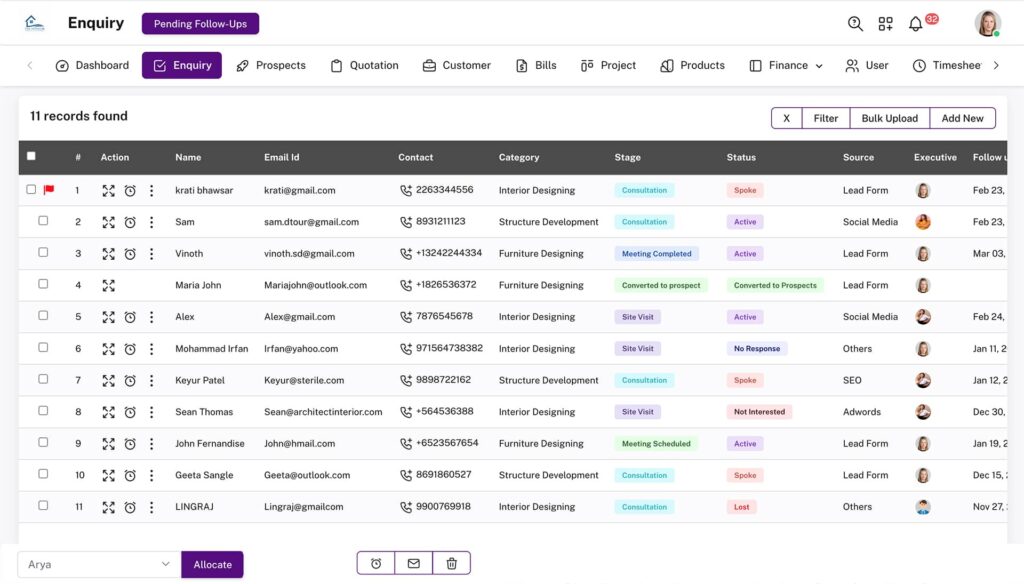 Enquiry Management
Add an inquiry manually, Bulk upload them, or through integration. Also, keep track of the leads that you are receiving on a daily basis and their follow-ups.
Get Followup reminders, perform automated follow-ups, bulk reallocation, upload related images or files of a lead, and many other functions using the inquiry module.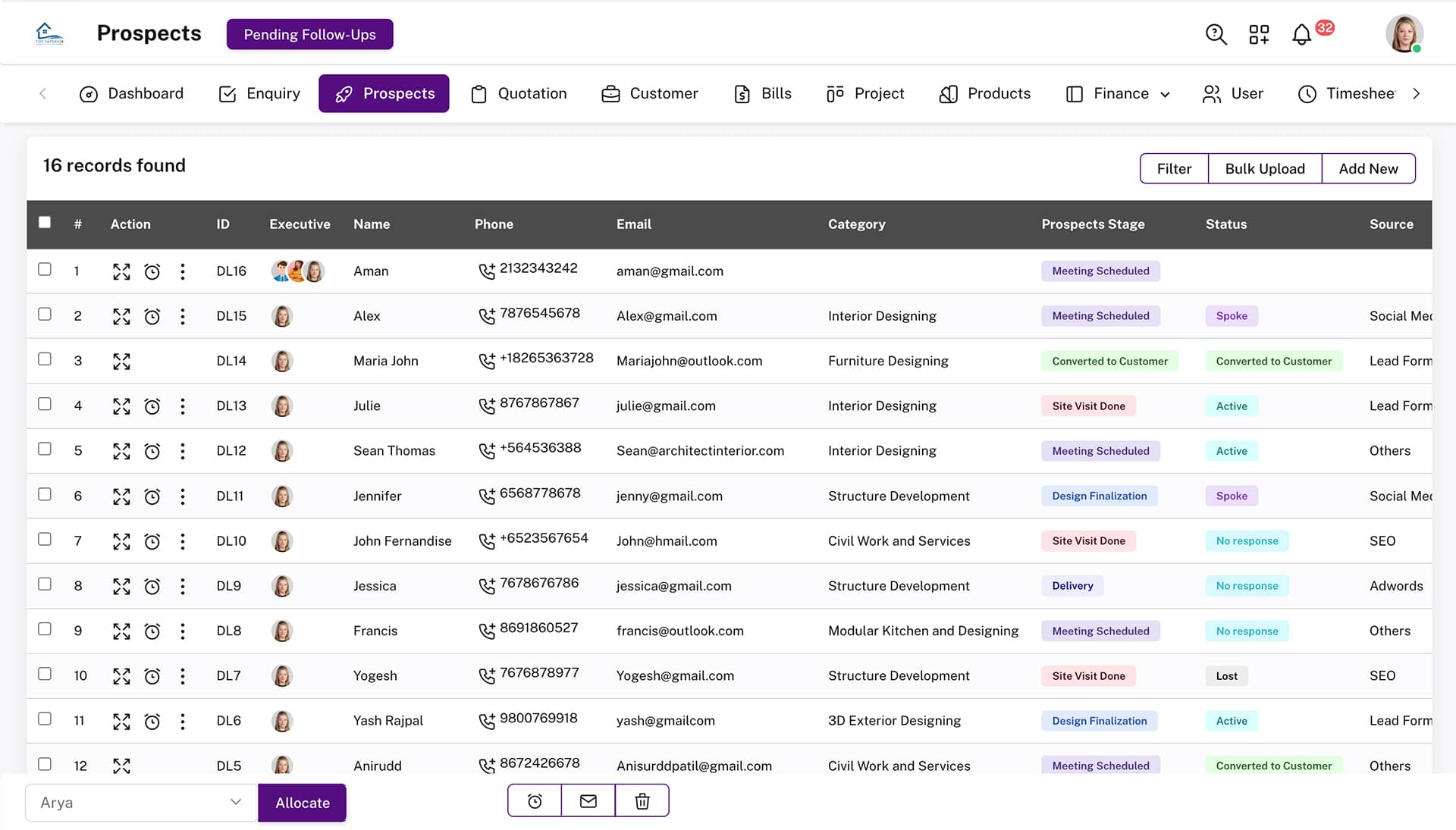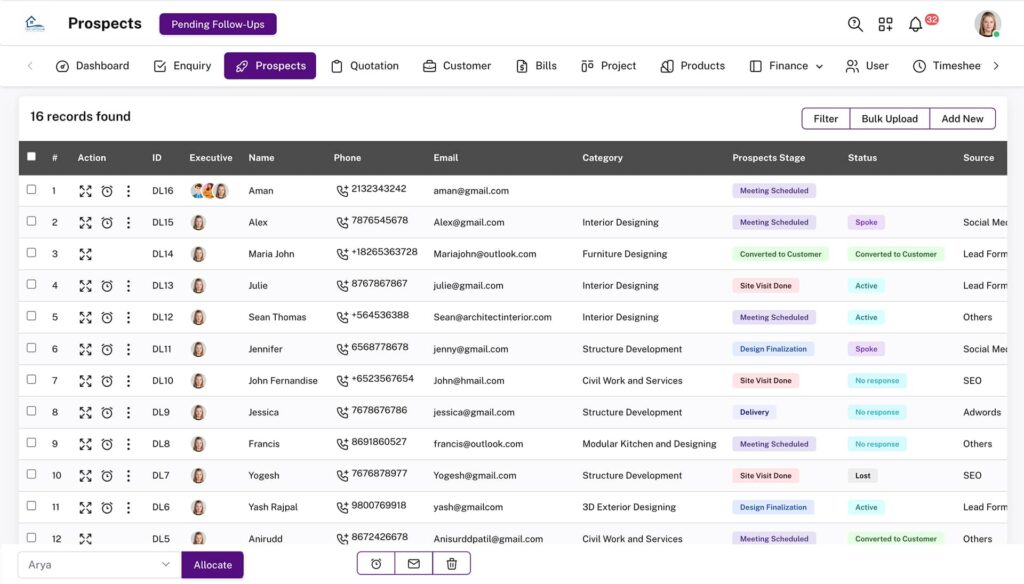 Prospects Management
Segregate the potential prospects from the general inquiry using the prospects module. You can give more attention to get the conversion done faster.
Define the expected closure data, value, and probability to build a healthy pipeline for now and in the future. Have a constant flow of sales at all times.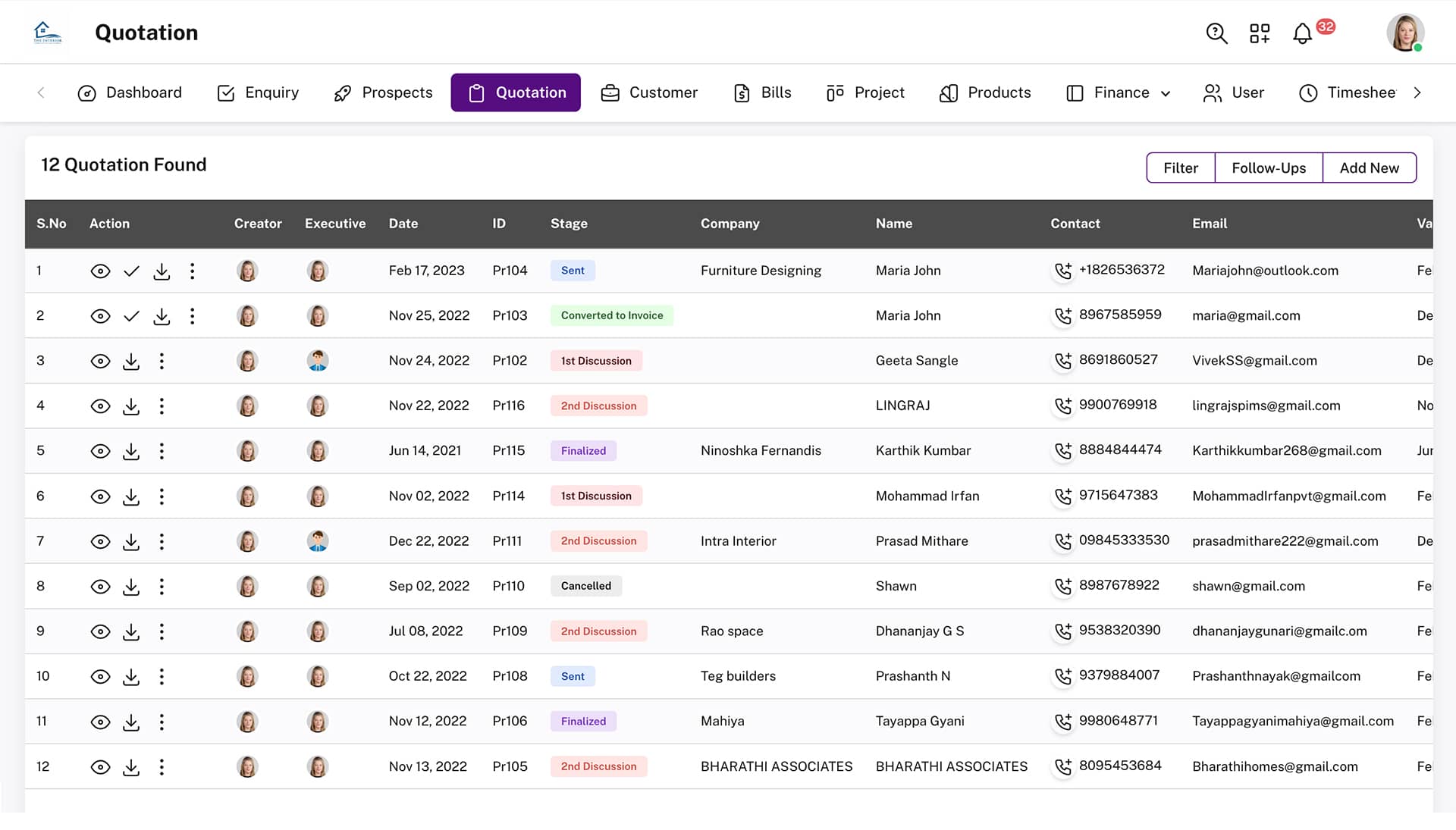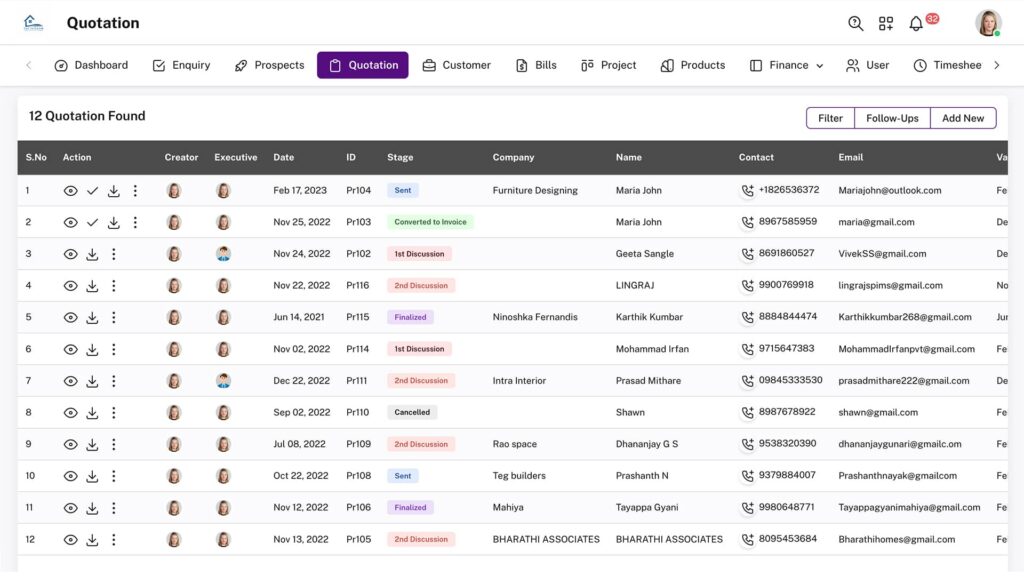 Quotation Management
Create a quotation for an inquiry or prospect in minutes. You can pre-design the quotation templates and also add the projects that the prospective clients have asked for in a few clicks.
The quotation can be downloaded in pdf, or send via email/ WhatsApp directly from the CRM. All the revisions that you are making to the quotation will also be available.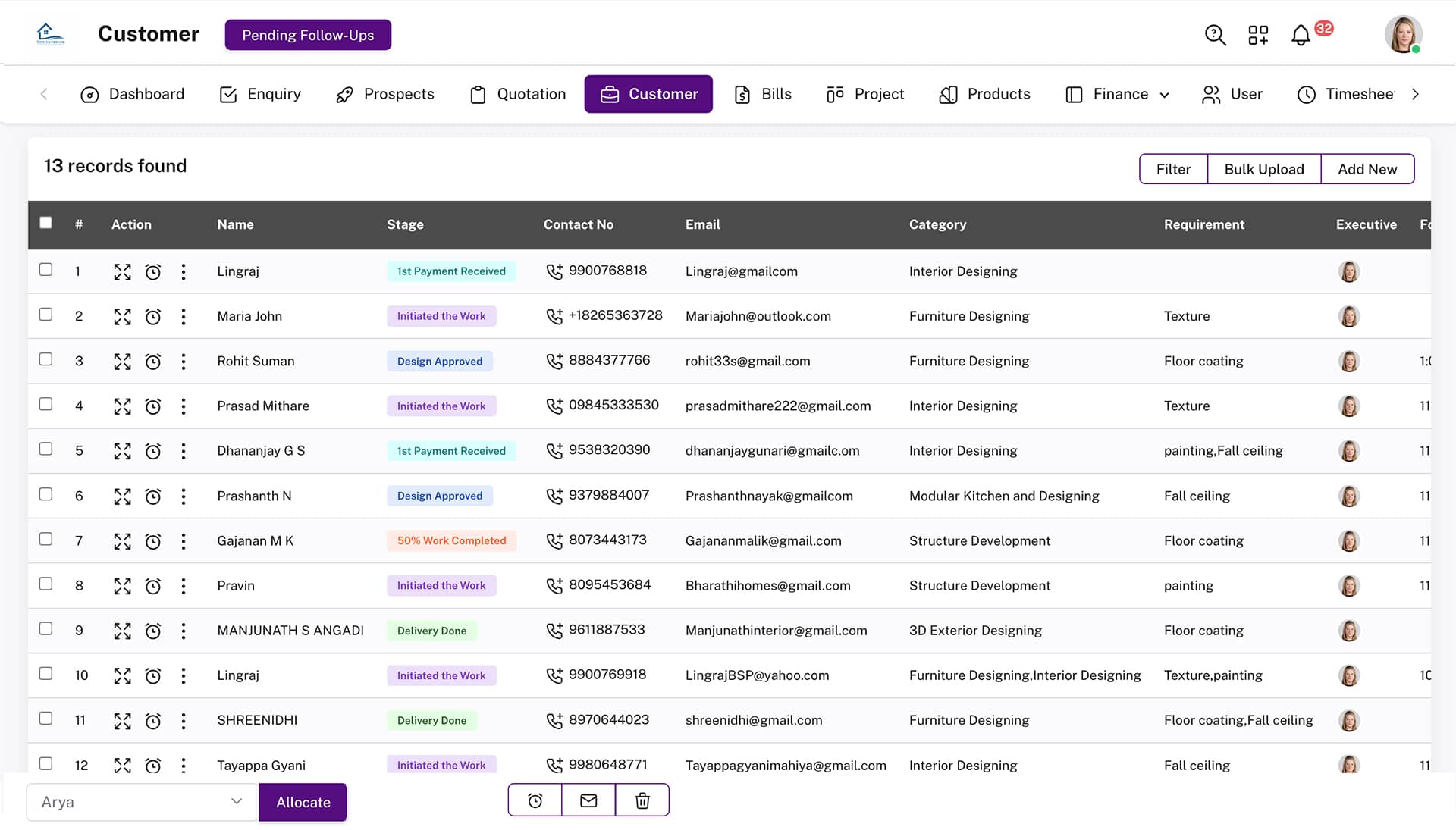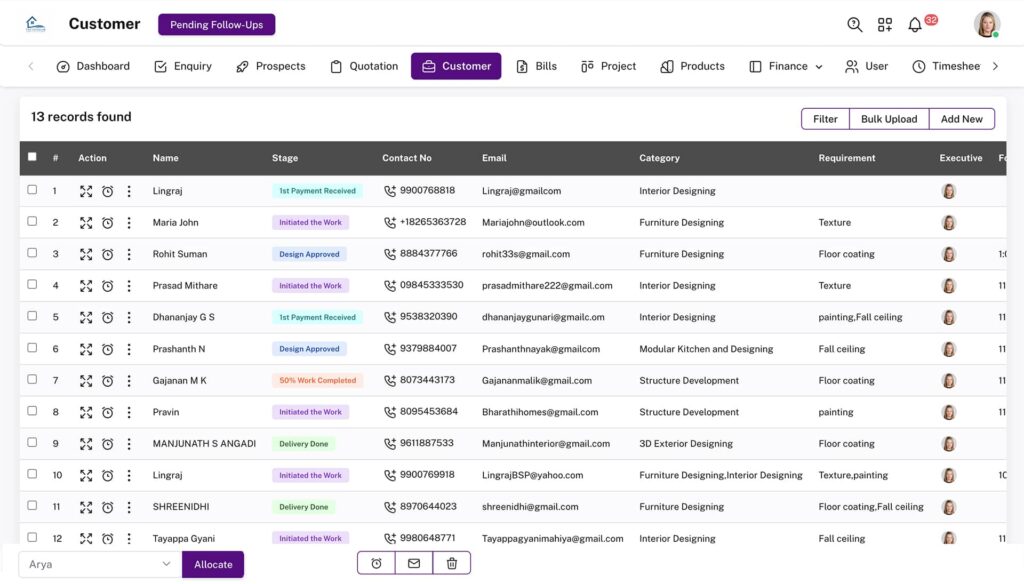 Customer Management
The inquiry or prospects can be converted into a customer with a click. With the customer module, you can also check the progress of the projects and payment received in multiple part payments
The follow-up feature helps you to be in touch with the customer always as Interior Designing Business has got a lot of repeated customers as well.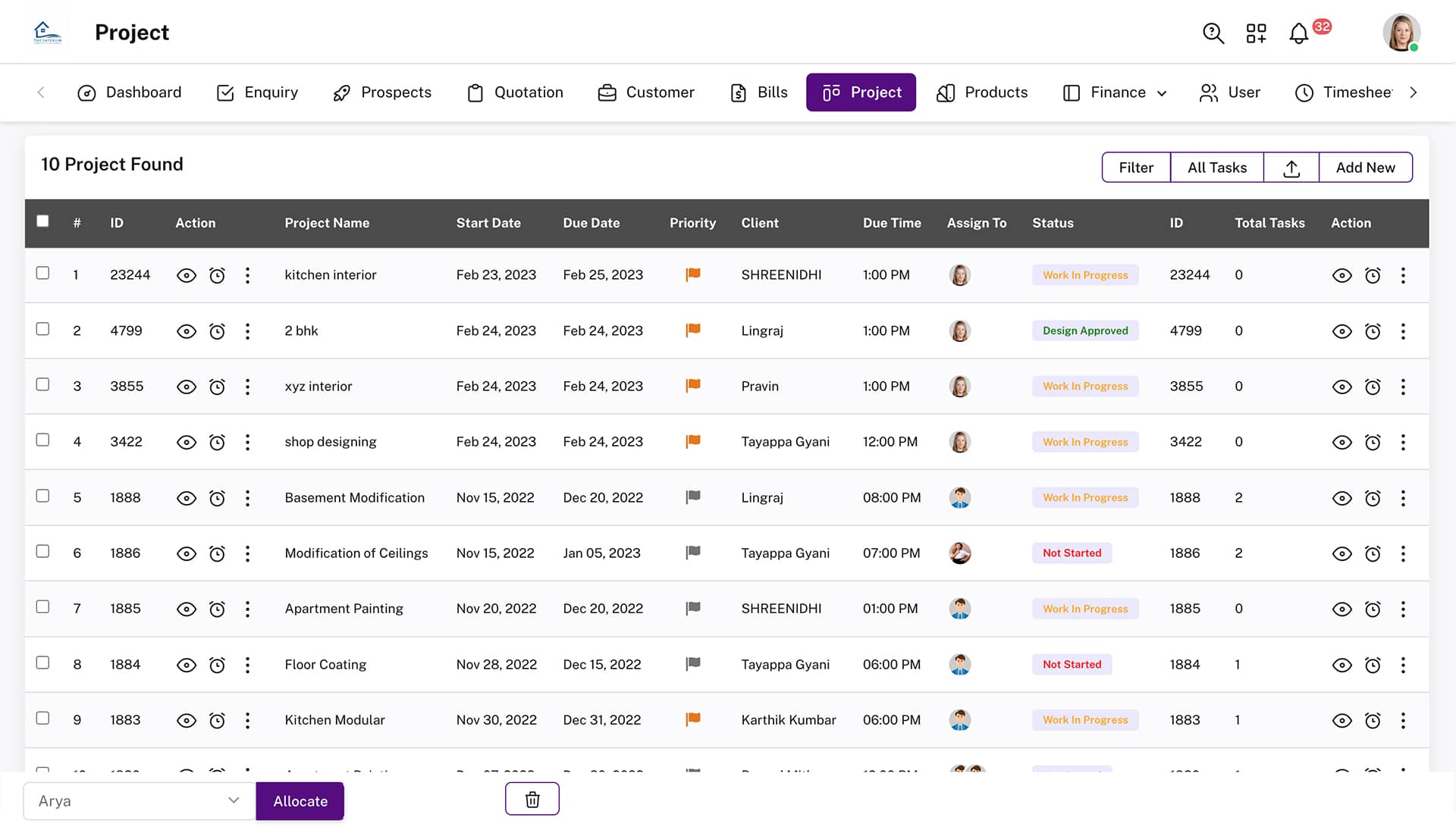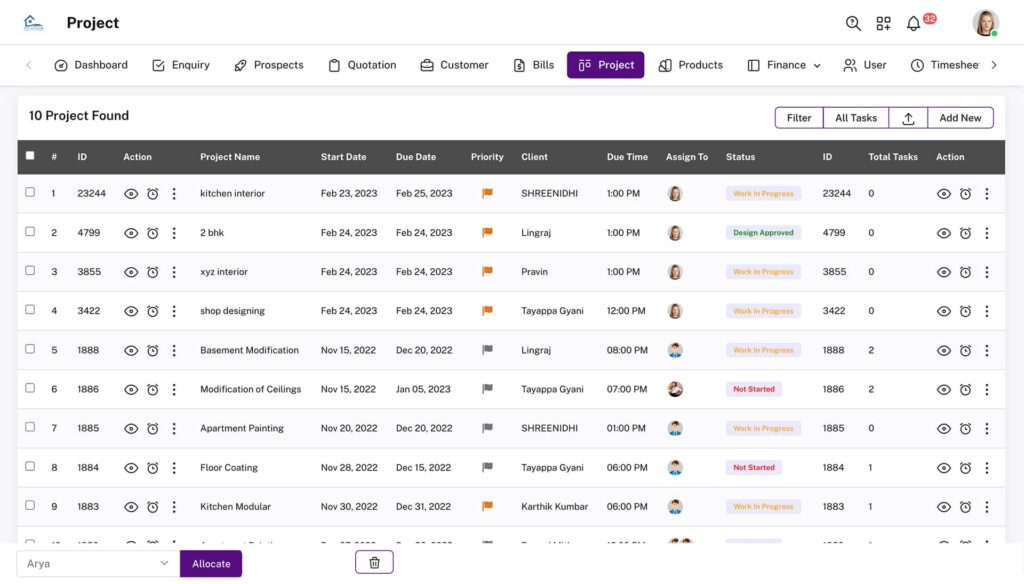 Project Management
Easily manage all your projects from start to end. From designing the plan, track employee activity, time spent, performance, and reason for the delay(if any). All customers up to date data will be available at your fingertips.
Constantly bridge between customers and the implementation team. Solid Performers CRM makes interior decorators' work easy. Hassle-free with complete top level monitoring.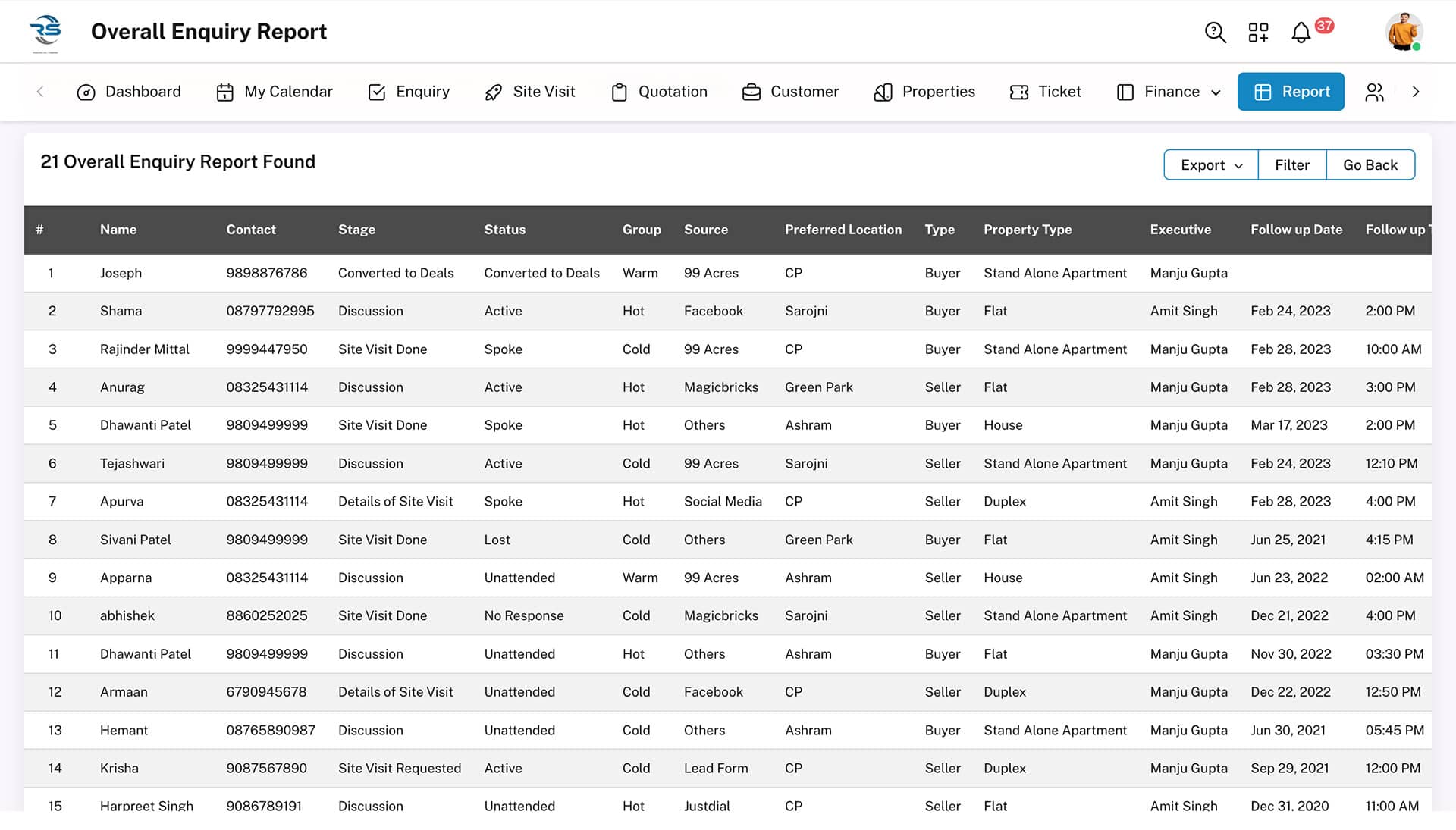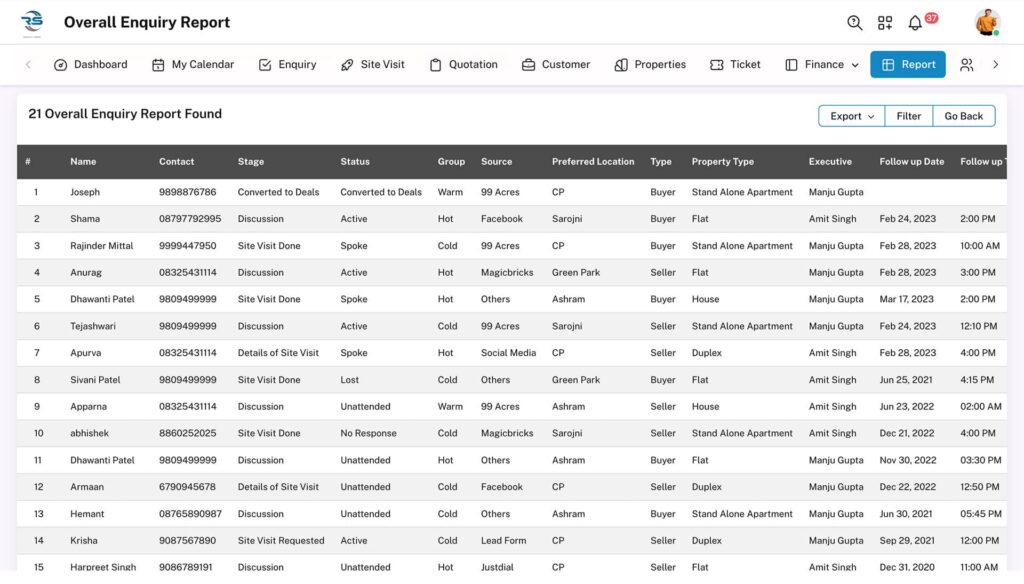 Report Management
Get real-time reporting on the web panel. Create your own filters to get custom reports based on exhaustive search criteria. Create your customized report easily like Summary reports or detailed overview reports to get an overview of your business.
You can also download the reports in excel format for any kind of review or future reference.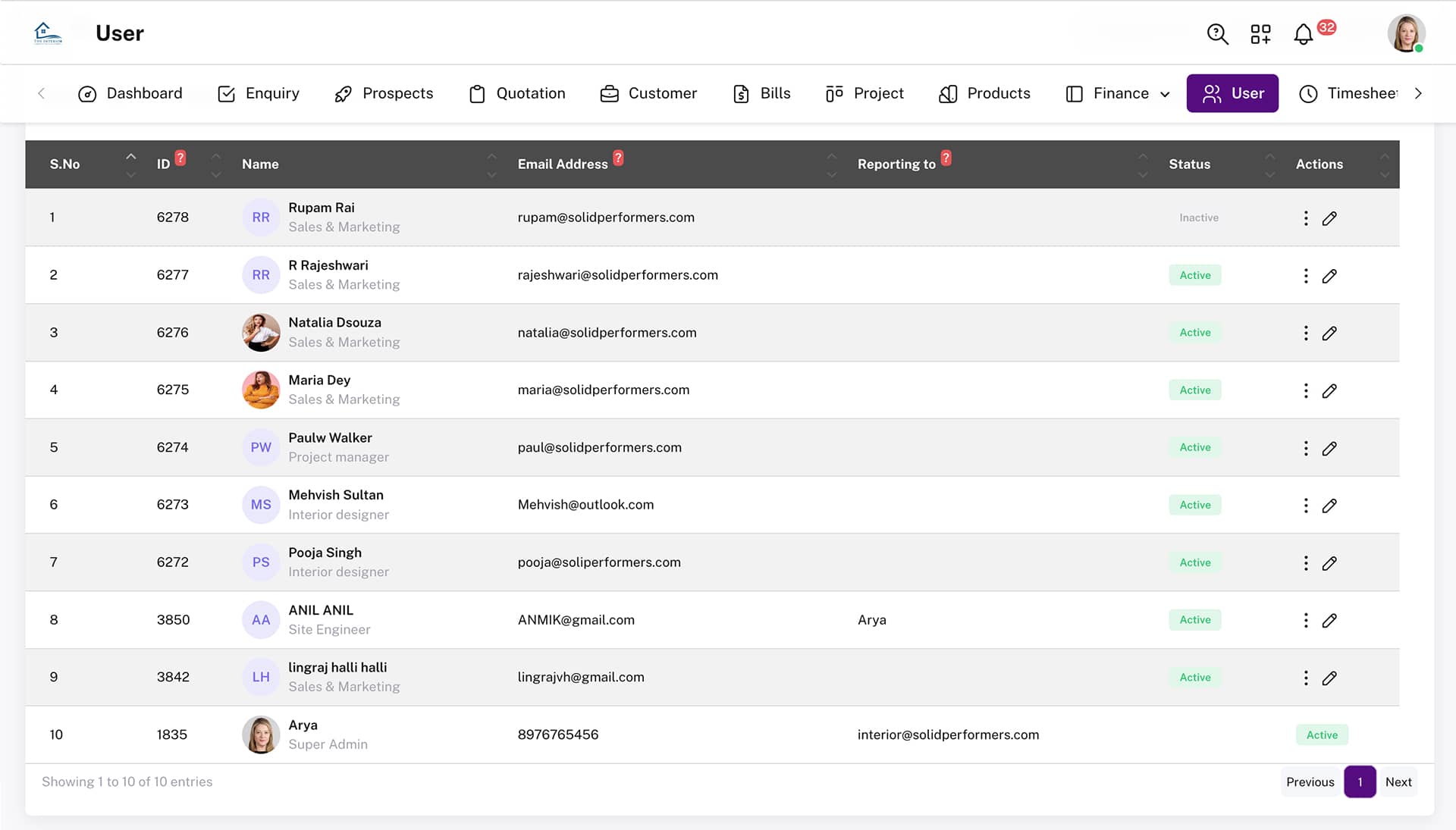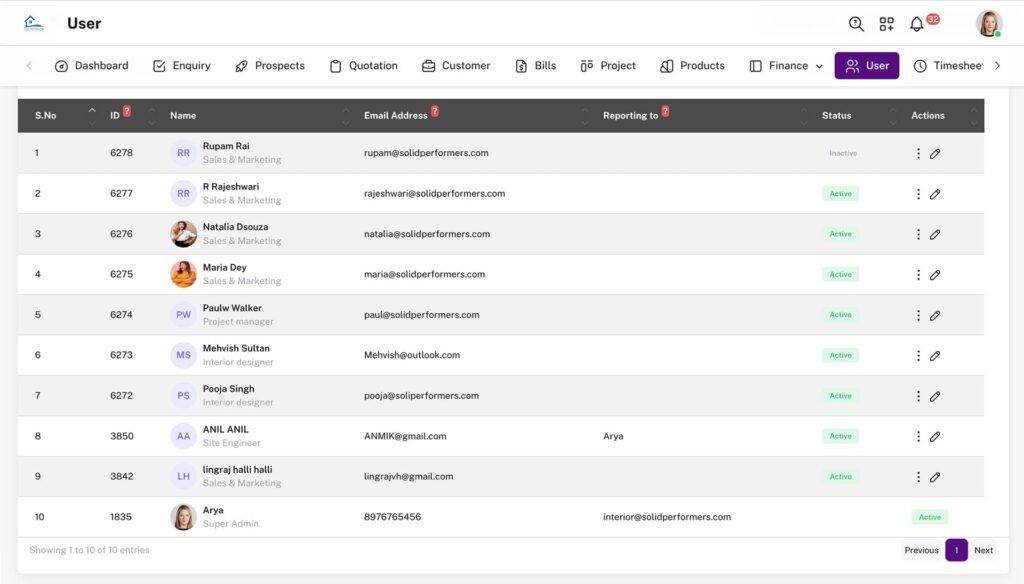 User Management
Manage your employees or team members with complete access restriction by using the user role function in Solid Performers CRM.
The users will be having access to only the allowed permissions and they will not be able to delete or download the data without proper access permission.
Get Started for Free
No need to think too much. Get started for free with the Best Cloud CRM for Interior Designers for your business and continue using it only if it fulfills your business requirement. As simple as that.