Best CRM Software in Tanzania with Top 10 Sales Modules
Here is the Best CRM Software in Tanzania with the top Sales Modules to Boost & Increase your Sales Team Productivity easily and get a Higher Closure Rate.
If you are looking for efficient and easy-to-use CRM, then Solid Performers CRM is the best CRM in Tanzania. Perform all the activities from getting all the leads in one platform to closing that lead to a client. Integrate various platforms of lead generation, SMS, WhatsApp, Email, Cloud Telephony, and Payment Gateways easily.
Manage more than one work in a single platform without moving from one place to other by using various software. We have got all kinds of customization available for every Industry. You name it and we have it.
Quick Enquiry
Kindly fill out the form below and we will get back to you.
All in One CRM
Get all options in one panel from receiving leads from integrated sources, calling and messaging from CRM, and managing clients by giving them support online. You can also create proposals and deals for a particular lead to improve the conversion ratio.
Solid Performers CRM helps you in integrating your cloud telephony services to ease your tele-callers work. The best CRM Software in Tanzania also provides payment gateway integration where if the person pays the amount, it will automatically get recorded in the system.
Follow-up & Notification Alert
70% of the closure depends on the quality of follow-up we do with our client. If you fail or miss any of your follow-ups, then you are losing 70% of your closure. The best CRM Software in Tanzania gives you the option not to miss any of your follow-ups.
It will provide you with the notification alert system in the CRM itself and the option to send the alert through email, SMS, and Whatsapp automation. Sending them the alert through an automated medium will reduce the risk of missing any follow-up.
Sales Dashboard
Get the graphical representation of the report based on the data available in the CRM. In the sales dashboard, you can see how many targets you have provided to your employees and every month's pipeline, and also you can check the closure percentage.
You can also easily identify the available pipelines for the next 12 months or more using the best CRM software in Tanzania. Getting all these data will help you in forecasting and planning for your future investment. You can also check your team's progress easily.
Why Solid Performers CRM is the

Best CRM Software in Tanzania

?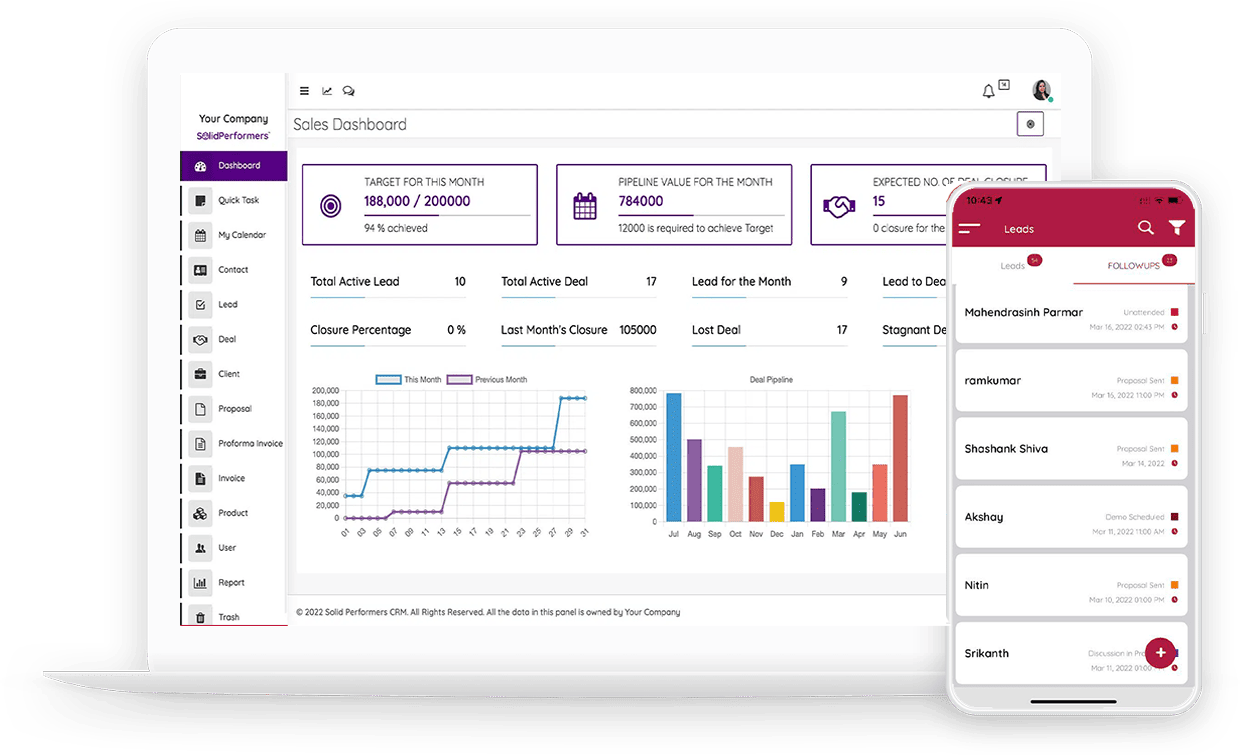 Manage lead, deal, and client
Manage your leads, deals/opportunity, and clients in a totally different module using the best CRM software in Tanzania. Segregate all these three into the different modules so that it will be easy for you to identify each lead.
Get the notification alert for each module and customize your stage and statuses for each module based on your business requirement.
You can also get an option where you can check the history of each lead, deal, or client. Store the logs of calls, SMS, WhatsApp, and emails for every lead and deal using the best CRM software in Tanzania.
Convert your lead into the deal and deal into a client in just one click. Reduce your work by not entering the data again and again as the data will automatically get mapped once you convert the leads.
Support Ticket
Create a form for your client's support and add that to your website. This will help in getting the issues directly stored in your CRM once any client raises the ticket from the website. Auto allocation of the ticket can also be performed.
Managing support tickets in a better way will increase the satisfaction level of your clients. And once your clients are satisfied you can earn their loyalty from them. Send automated completed tickets and created tickets through the mail directly to your client.
This will save your employees time so that they will focus only on solving the issue of your client using the best CRM software in Tanzania. So managing support tickets from CRM will be very useful to your company as it can bring productivity as well as brand loyalty.
Want to know more about the Best CRM Software in Tanzania?
Employee management 
Solid Performers CRM provides you with basic features of HR management. Get the option to punch in and punch out which will be used for your employee's attendance.
The total punched-in timing will be calculated automatically when they punch out and this will help you in knowing how much work they have done in a day. For each task completed they can add an update with the timing to measure their work.
If you are looking for basic yet useful features for your employees to get track of them then Solid Performers will be the best CRM software in Tanzania or you can also consider this among the top 10 CRM providers in Tanzania. Get started for free today to explore the features in detail.
Want to know more about the Best CRM Software in Tanzania?
Check the History and maintain security
You can check the history of who has accessed your CRM when and from where. Solid Performers gives you 100% security of your data. You can also restrict the IP address from where you want anyone to access it.
You can also check the history of your leads and from where the lead came and the whole chain attached to that lead will be visible.
Solid Performers CRM is an ISO 27001: 2013 certified company for data security and maintenance. No one can be able to access your data without the proper authorization from your side if you use the best CRM Software in Tanzania. 
You can also block any user at any point in time or change the password of the users from your admin panel. This gives you the complete freedom to manage your business data in a safe environment.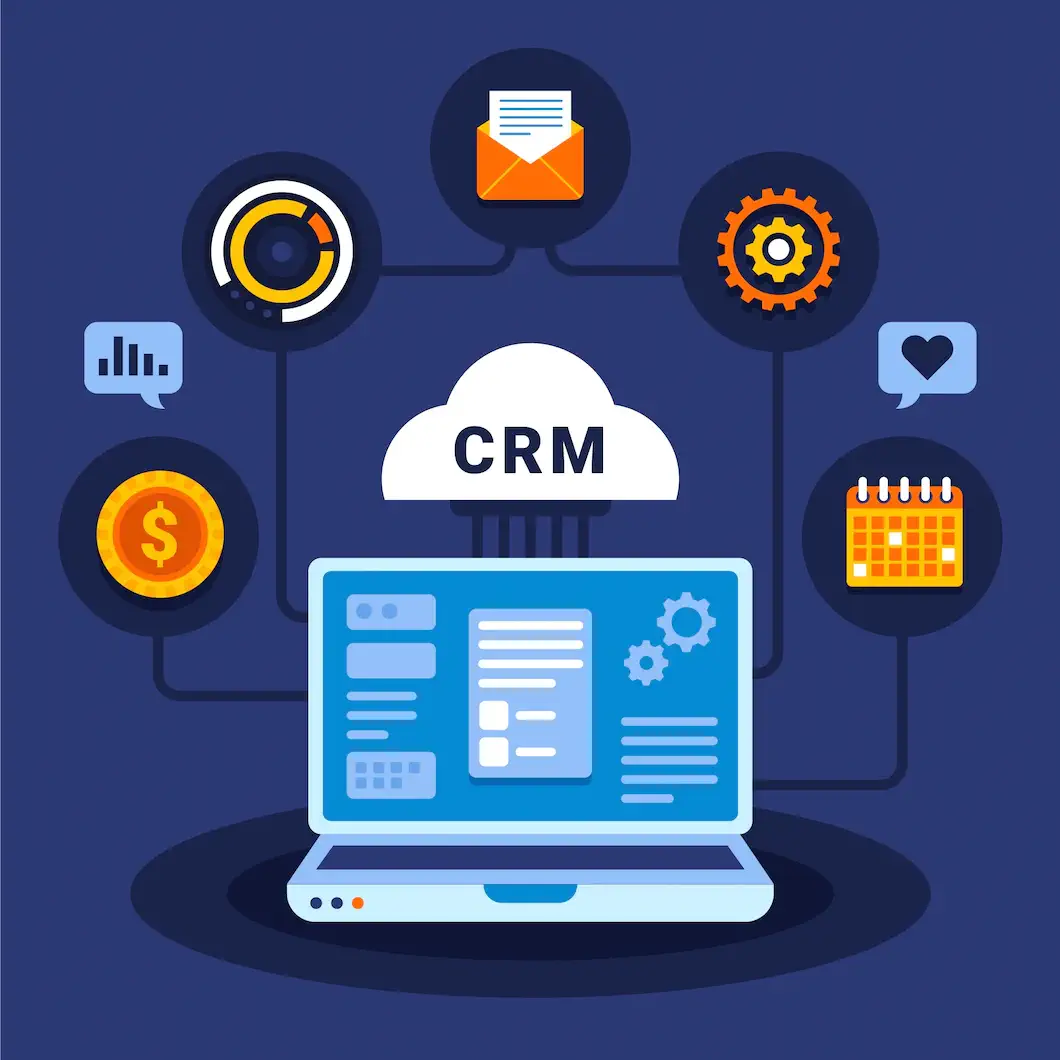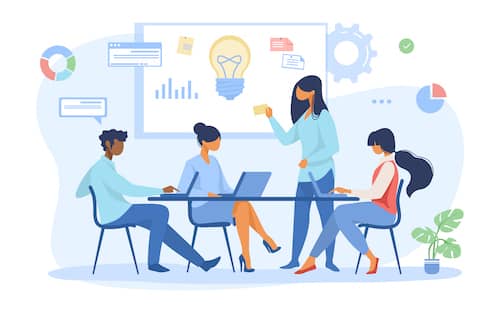 Get Started for Free
There is nothing to lose but a higher probability is there for you to gain so much from Solid Performers CRM as it is one of the Best CRM Software in Tanzania. Try out the CRM for Free and don't pay anything until you are satisfied completely. We assure you that this is one of the best decisions for your business growth and success.